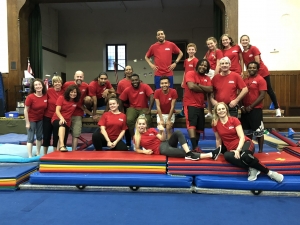 Join
Spotlight Gymnastics

Today!
Offering a variety of classes for toddlers through 18 year olds, we are centrally located in Pelham Manor, NY. Serving children's and parents' needs for over 25 years, we focus on improving your child's flexibility, coordination, strength, endurance, and gymnastic skills. Most of all, our goal is to help instill confidence, self-esteem and good gymnastics skills that can carry over to every other sport.
Where Children and Imaginations Soar!
Beginning Winter 2018, we are introducing our new Tumbling Tinies program for 9-22 month olds! Please visit the Program and Schedule pages for more info!!!
We have uploaded approx 190 new Spotlight Showcase pictures in our Gallery, check them out!!!

In September our Spotlight Staff completed the Red Cross certified First Aid and CPR courses. We are constantly focused on saftey for all our students!!!

If you haven't already, stop by the office and pick up a Spotlight magnet for your car or fridge, they are free and going fast!!!

Feel free to use the WIFI on our premises, the SSID is "spotlight-guest". Ask the office for the password!!!

We have ordered and received all new Spotlight t-shirts and leotards for purchase, see the office for help with size!!!
See What We Have to Offer